About Retinacomplex
Learn everything about us and our products.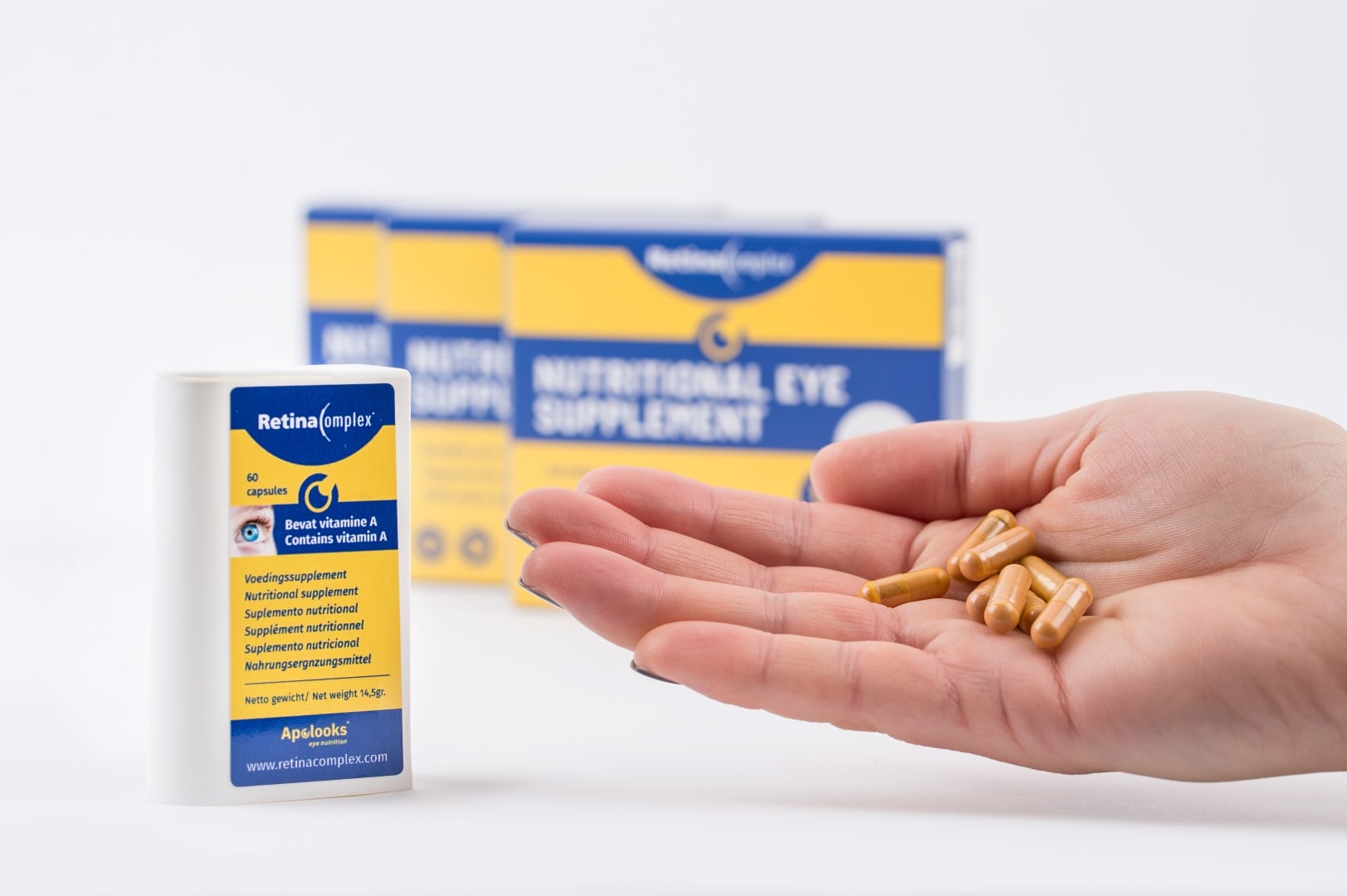 Retinacomplex: Our 100% plant-based food supplement Retinacomplex® is specially formulated for the eyes. Our supplement is often used by people with eye diseases such as Retinitis pigmentosa or macular degeneration. Retinacomplex® can also contribute to keeping the eyes healthy, especially in this digital age where the eyes are heavily burdened with the many monitors such as TV, telephone, tablet and computers all day long. Take a look at the reviews at the bottom of this page to read the stories of our customers…
Our supplement is 100% vegetable and has a unique composition. Retinacomplex® consists of a highly concentrated extract of the Chinese fruit Lycium Barbarum Lynn, L-glutathione, alpha lipoic acid, lutein, zeaxantine and vitamin A. Vitamin A benefits your vision and helps to maintain sharp vision. In addition, it supports the condition of the eye and contributes to a normal moisture balance in the eye.
Research: To see if our unique combination of antioxidants can slow down the degeneration of the eyes, several studies have been done. First on animals and later a small-scaled study on humans. The positive results of these studies were published in 2007 in the scientific magazine Neuroscience. Unfortunately we are not allowed to publish these studies. For experiences with our product we would like to refer you to our customer experiences at the bottom of this page.
We found two test persons who where willing to make their eye measurements public. Below are the eye measurements of a man and a woman after 10 months of using Retinacomplex®. Compare both fields left and right. The images on the left are before using our supplement, the images on the right are after 10 months of Retinacomplex use. The inner rings stand for observing small objects and the outer rings for larger objects.
Important: Please note that these results can be different for everyone! There are many factors that are important for your overall health and therefore also for your eyes. Correct supplements, a healthy diet, exercise and as little stress as possible are the most important.
Supplementary supplements: When you use Retinacomplex® in combination with our Apolooks® omega-3 algae oil, you give your eyes many of the nutrients they need. The omega-3 fatty acids have been proven to contribute to a healthy retina. This combination increases the chance of keeping your eyes healthy and slowing down the degeneration of the eye. Take a look at our combideals to buy our products together with high discounts.
The daily dose consists of 4 vegetable capsules:
– Polysaccharides from Lycium Barbarum Lynn – 600 mg (90% pure)
– L-Glutathione – 200 mg
– Alpha lipoic acid (ALA) – 100 mg
– Lutein – 20 mg
– Zeaxantin – 10 mg
– Vitamin A – 160 µg
Customers about Retinacomplex®
Interested in our product? Click here to order directly.