About Retinacomplex
Learn everything about us and our products.
View pages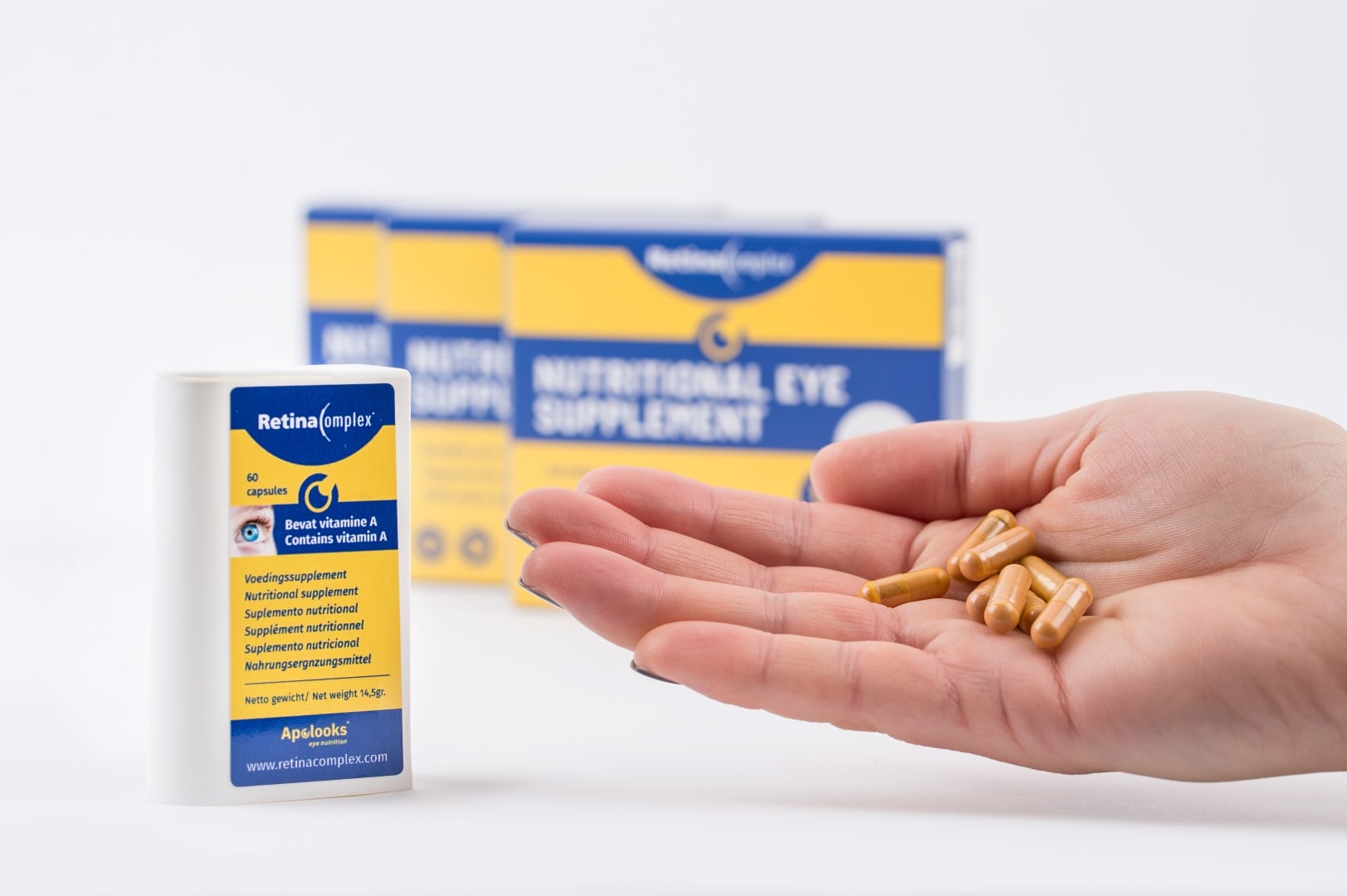 Retinacomplex: Our 100% plant-based food supplement Retinacomplex® is specially formulated for the eyes. Our supplement is often used by people with eye diseases such as Retinitis pigmentosa or macular degeneration. Retinacomplex® can also contribute to keeping the eyes healthy, especially in this digital age where the eyes are heavily burdened with the many monitors such as TV, telephone, tablet and computers all day long. Take a look at the reviews at the bottom of this page to read the stories of our customers…
Our supplement is 100% vegetable and has a unique composition. Retinacomplex® consists of a highly concentrated extract of the Chinese fruit Lycium Barbarum Lynn, L-glutathione, alpha lipoic acid, lutein, zeaxantine and vitamin A. Vitamin A benefits your vision and helps to maintain sharp vision. In addition, it supports the condition of the eye and contributes to a normal moisture balance in the eye.
Research: To see if our unique combination of antioxidants can slow down the degeneration of the eyes, several studies have been done. First on animals and later a small-scaled study on humans. The positive results of these studies were published in 2007 in the scientific magazine Neuroscience. Unfortunately we are not allowed to publish these studies. For experiences with our product we would like to refer you to our customer experiences at the bottom of this page.
We found two test persons who where willing to make their eye measurements public. Below are the eye measurements of a man and a woman after 10 months of using Retinacomplex®. Compare both fields left and right. The images on the left are before using our supplement, the images on the right are after 10 months of Retinacomplex use. The inner rings stand for observing small objects and the outer rings for larger objects.
Important: Please note that these results can be different for everyone! There are many factors that are important for your overall health and therefore also for your eyes. Correct supplements, a healthy diet, exercise and as little stress as possible are the most important.
Supplementary supplements: When you use Retinacomplex® in combination with our Apolooks® omega-3 algae oil, you give your eyes many of the nutrients they need. The omega-3 fatty acids have been proven to contribute to a healthy retina. This combination increases the chance of keeping your eyes healthy and slowing down the degeneration of the eye. Take a look at our combideals to buy our products together with high discounts.
The daily dose consists of 4 vegetable capsules:
– Polysaccharides from Lycium Barbarum Lynn – 600 mg (90% pure)
– L-Glutathione – 200 mg
– Alpha lipoic acid (ALA) – 100 mg
– Lutein – 20 mg
– Zeaxantin – 10 mg
– Vitamin A – 160 µg
Customers about Retinacomplex®
Reginaldo jorge Cesar – Brazil
Hello, my name is Reginaldo, I'm Brazilian and I want to say that Retinacomplex was recommended by my doctor and has proven to be efficient in slowing the advance of my Retinitis Pigmentosa. Currently with the new tracking system of the order package there have been no problems. The product arrives quickly and safely. I am happy to know that I will be able to continue ordering on a regular basis without any problems.
Enrica Ponte – Italy
I am very glad to use your product for my eyes. My doctor suggest it to his all patients. Retinacomplex has helped me and I am grateful. Thank you!
Ricardo Radünz – Brazil
The decline of my eyes has more or less stabilized about three years ago.
T. van der Rijst – Netherlands
I have now taken "Retina Complex" faithfully every day for many years. I am now 83 years old and recently my eyesight suddenly deteriorates quickly. I think I am about the oldest in the Netherlands with the eye disease Retinitis Pigmentosa who at my age still can see. I think that's very special itself. I am convinced that "Retina Complex" has had a positive influence on this.
Melissa Kucharyshen – Canada
My daughter was diagnosed with retinitis pigmentosa a year and a half ago. Retina Complex was recommended. She has been using this for the past year and a half and she has maintained her vision for this time. We will continue to purchase this supplement.
Molly Roy – USA
My experience with this product has been excellent. I like that it specifically targets the retina. Multiple important ingredients in one capsule, reduces number of different products I need to buy. A good all-in-one.
I have always been satisfied with shipping time and service.
Petra – Netherlands
I have been using Retinacomplex for years on the advice of the ophthalmologist in combination with fish oil. Always fast delivery. Very satisfied!
J. Tol – Netherlands
About 10 years ago my ophthalmologist told me that I had Macular degeneration, but the dry form, so less aggressive. I immediately started using the retina capsules. I am more than satisfied with retinacomplex capsules because I have almost no degeneration of my eyes! I come to my ophthalmologist every 2 years, so thank you retinacomplex!
Pauliina – Finland
I've used these capsules for several years now. My Retinitis Pigmentosa hasn't gone much worse, but I don't know if this product has helped. I keep using it as it won't do any harm either. Antioxidants are always good to use.
Chen Hsiu Ching – China
Because of night blindness, I need to eat lutein. I've bin using it for a while and I feel that it works!
Ea Daamen – The Netherlands
No complaints about the delivery of Retina Complex.
On the advice of my ophthalmologist, I have been taking these pills for about 7 years. Whether it helps… the first years my view remained fairly stable, my vision went back very slowly, but now my eyes are getting worse.
Marcel Nagm – Brazil
I have Retinitis Pigmentosa in both eyes and I use Retinacomplex for about 4 months and I have already felt that my vision has not worsened, I realized that the degeneration has stopped and I do not feel any more loss. I feel like I can walk at night without bumping into things and it has made me have an excellent visual acuity. I intend to remain using Retinacomplex so to not lose my sight anymore. Studies prove its benefit and it was recommended by one of the best ophthalmologists in Brazil.
Erica Borges – Brazil
I began using Retina Complex in 2009 on the advice of my ophthalmologists. It was recommended with the aim of halting, or at least helping to delay, the progression of Retinitis Pigmentosa. Following 8 years of continuous use, I can confirm that the investment has been well worth it. My disease is not very active and progressing slowly. I have healthy habits alongside use of Retina Complex, such as always protecting my eyes from sunlight, exercising, eating well and steering clear of cigarettes!
Juliana Pereira – Brazil
A few years ago I began to use Retinacomplex, which unfortunately is not yet available for sales in Brazil, but is sent to me directly from the Netherlands whenever I order it.
This supplement ensures that my illness remains stabilized, allowing me to continue to see. I'm having a great experience with the supplement and I have never had side effects.
The purchase always takes place easily with fast shipping. However, last June I couldn't make the purchase, because there were payment issues.
I contacted the company, which promptly assisted me in trying to resolve the issue. They sent me a box of Retinacomplex so that I could continue to use the product, ultimately I did not have to pay this.
I have no words to thank for that gesture. It is incredible that a company located so far from where I am has such an attitude, often people who know us personally do not make such a gesture.
I am very grateful to Retinacomplex, which proves to be a human company, working with the heart and is always ready to help their customers.
Again, thank you very much Retinacomplex!
Anonymous – Brazil
I use Retinacomplex because my vision depends on it. I'm having good results. I'm 47 years old and I can still see well. I know that my disease (Retinitis Pigmentosa) has no cure, but with the help of this supplement I can work and I can walk at night well. I take 2 tablets a day, I know the ideal would be 4 but it is a very expensive supplement for us Brazilians. But you're still helping me a lot. I would just like to pass on to everyone that the Retinacomplex is bringing good results for me!
Sondra Milner – Canada
I have been ordering Retinacomplex for about eight or ten years now. I order this for my 2 adult children who have Ushers Syndrome. They are very happy with it! Even though their vision has deteriorated, they do notice a difference if they do not take it.
J. Haselmayer – Canada
Very satisfied. We order from Canada and it reliably arrives within 1 week. All concerns are addressed immediately.
Darren – Canada
Retinacomplex provides individuals diagnosed with an inherited retinal eye disease with an element of hope as it provides an option for managing their eye disease. I recently learned about Retinacomplex during a presentation by a respected Opthalmologist in Canada who specializes in inherited retinal dystrophies. During this presentation, the Ophthalmologist discussed the potential benefits of this product based on information that several patients had reported. I was thrilled to hear about Retinacomlex as there is currently limited options for individuals for the management of a retinal dystrophy including Retinitis Pigmentosa. Although it's not a cure or a treatment, I view Retinacomplex as a tool in managing this diagnosis. Retinacomplex has now become a regular part of my overall daily health and wellness regime. I am thankful to the folks at Retinacomplex for developing this product specific for individuals diagnosed with an inherited retinal eye disease.
Anonymous – Canada
Have been ordering from retinacomplex.com for a few years and have had great experiences every time! Excellent communication and a great product! Thank you!
M. Truman – Canada
I have been using Retinacomplex for over 10 years. My disease (retinitis pigmentosa) is one that progressively leads to blindness. My ophthalmologist felt it was important to keep my eyes as healthy as possible and she specifically recommended Retinacomplex, The company's ordering system is simple and straightforward. More importantly, it has been completely reliable in providing Retinacomplex to us. Anyone looking for this type of product should feel comfortable ordering Retinacomplex.
M. den Hartog – The Netherlands
I suffer from Retinitis Pigmentosa. Many years ago, I started using Retinacomplex and this has helped me a lot. Over the years, my sight did deteriorate a bit but without this supplement I would have been blind now, so I can say with certainty that Retinacomplex truly has an inhibitory effect. I continue to use it because it would be fantastic to have many more years with eyesight!
C. de Boer – The Netherlands
I use Retina complex since 2010. I suffered from visual impairment a lot. Then I started using Retinacomplex. Since then the decline has stopped. If I hadn't done that, I would have lost my sight. I would recommend it to anyone with eye problems!
Henk Bol – The Netherlands
My experience is that the product has an positive effect. It inhibits my eye disease and I see sharper.
Jethoe Chandrikapersad – The Netherlands
My son Rajiv D.V. Jethoe has a hereditary retinal disorder. Six years back he was advised by his attending physician Prof. dr. Dr. Clover to use Retinacomplex to maintain his vision for as long as possible. We are very satisfied with this supplement, because he would not have been able to see for a long time without this supplement.
Pekka Pulkamo – Finland
I have not used Retinacomplex for a while, but I have noticed now that they really are useful for my eyes and ability to see!
Forti Stefano – Italy
I have been buying Retinacomplex for 10 years for my cousin who is suffering from Retinitis Pigmentosa. Retina complex is the only supplement on the market that can slow down the degeneration. It is an excellent company and shipments always arrive quickly! Despite the years the price has remained unchanged, online purchase is fast and accurate!
M. Stork – The Netherlands
In my opinion, the retina continues to function well with the help of these supplements.
T. Kras – The Netherlands
I have been using Retinacomplex ever since 2006 and now in 2017 I still use it, and am very satisfied with it. In 2006 I heard that I was going to be blind a year later in 2007. I did not give up hope and I still enjoy the things I "CAN" see! My sight has indeed deteriorated over time, but I can still see. So, for me it had an inhibitory effect which I am very pleased about. In short, if I had not used Retinacomplex, I should have been long blind by now.
Interested in our product? Click here to order directly.