Nos produits
Oméga-3 Huile d'algue
Oméga-3 Huile d'algue
Contrairement à de nombreux autres produits oméga-3, les acides gras contenus dans notre produit sont directement extraits des algues. Cela crée un produit 100% végétal et oméga-3 pur.
Plus d'informations
$29.95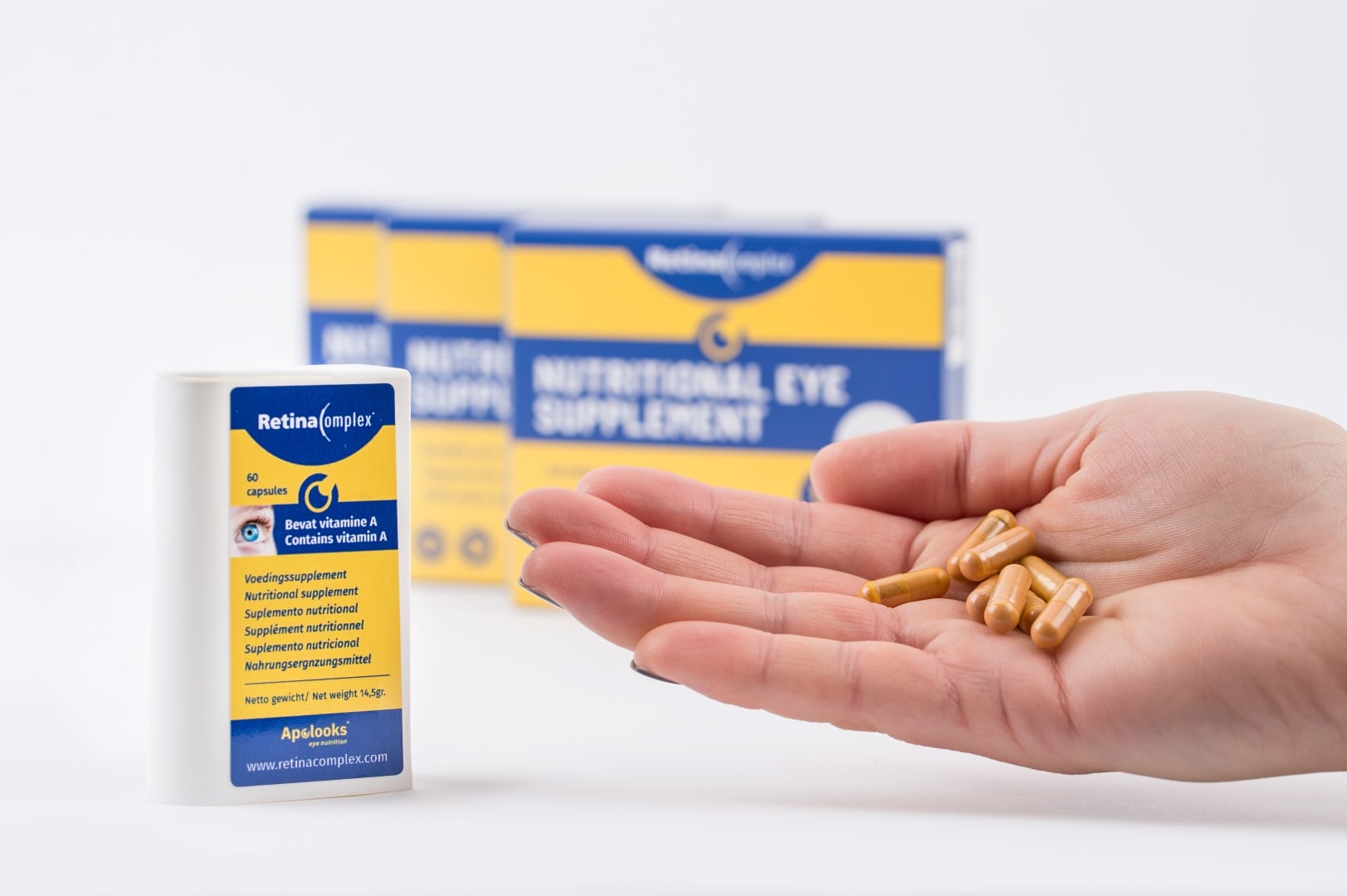 Retinacomplex®
Retinacomplex®
Retinacomplex® soutient l'état de l'œil et contribue à un équilibre hydrique normal dans l'œil. Retinacomplex® existe depuis 2006, consultez nos critiques pour lire les histoires sur notre produit.
Plus d'informations
$47.95
Les deux produits sont entièrement végétaux
Les acides gras riches en Oméga-3 sont bénéfiques pour les yeux mais aussi pour le cœur et le cerveau
Retinacomplex® est un produit réputé depuis 2006
Retinacomplex® contient également de la Lutéine et du Zéaxanthine
De nombreuses recommandations de clients à travers le monde
Envoi gratuit dans le monde entier
Envoi gratuit avec track & trace
Suppléments brevetés
Avis de clients
Danielle Ricas
Very attentive and helpful. They always respond very fast and help in any difficulty. I am very satisfied. They are to be congratulated.
WebwinkelKeur
Roberto De Oliveira
WebwinkelKeur
Roderick Clarke
WebwinkelKeur
ArSan LEUNG
WebwinkelKeur
JOSE JACOB
Very efficient ordering service.
Good communication with me.
Order received in good time.
Hope the product helps me
Would love to know if clinical studies were do and if so I would love to see it as I spent all my life doing medical research.
Thank you
WebwinkelKeur
IVANA POTTER
WebwinkelKeur
Vroon
Very satisfied, quick delivery, the product is well packed and good service by email and telephone
WebwinkelKeur
Claudio Ghirardi
WebwinkelKeur
STEFANO FORTI – Italy
Tutto alla perfezione ……..
WebwinkelKeur
Outi Lehtinen
Excellent service for more than ten years. I feel that this company really care about their customers.
WebwinkelKeur
Lorna Rosenstein
WebwinkelKeur
LIU BOLIANG
WebwinkelKeur
Noeli Fernandes da Silva
I'm very happy with retina complex, my doctor say the retinose are stabilise
WebwinkelKeur
Fabiana Lynch
WebwinkelKeur
Bin-Yan Hsu
WebwinkelKeur
Shelagh Maloney
Order was acknowledged right away and I was informed about its tracking throughout the process.
WebwinkelKeur
Tarja Pasanen
WebwinkelKeur
Paul Fitzgerald
WebwinkelKeur
Randy Fullerton
Have used your product for years and always excellent, fast service
Randy from Canada
WebwinkelKeur
Philipp Schlaeppi
Everything worked well and was easy to use.
WebwinkelKeur
Huang Jen-Chieh
WebwinkelKeur
FORTI STEFANO
WebwinkelKeur
Orsola Muller
J'utilise le produit depuis 3 mois. Il me parait très valable. J'ai eu des difficultés de payement – dû à ma carte – et « Retina Complex » a été extrèmément « Helpful ».
WebwinkelKeur
Jose Savo Leopoldi
I feel very safe contacting and purchasing Retina Complex products
WebwinkelKeur
Melissa Kucharyshen
My daughter was diagnosed with retinitis pigmentosa a year and a half ago. Retina Complex was recommended. She has been using this for the past year and a half and she has maintained her vision for this time. We will continue to purchase this supplement.
WebwinkelKeur
Molly Roy
My experience with this product has been excellent. I like that it specifically targets the retina. Multiple important ingredients in one capsule, reduces number of different products I need to buy. A good all-in-one.
I have always been satisfied with shipping time and service.
WebwinkelKeur
Darren
Retinacomplex provides individuals diagnosed with an inherited retinal eye disease with an element of hope as it provides an option for managing their eye disease. I recently learned about Retinacomplex during a presentation by a respected Opthalmologist in Canada who specializes in inherited retinal dystrophies. During this presentation, the Ophthalmologist discussed the potential benefits of this product based on information that several patients had reported and mentioned.
WebwinkelKeur
Chen
My mother has suffered Retinitis Pigmentosa from genetic inheritance. I am buying the medicine for her around 6 years. I am happy that she still can see something till now.
WebwinkelKeur
Pauliina
I've used these capsules for several years now. My RP hasn't gone much worse, but I don't know if this product has helped. I keep using it as it won't do any harm either. Antioxidants are always good to use.
WebwinkelKeur
helen Jue
I am from Vancouver BC, Canada. I put an order in, and within ten days, it arrived. I was so surprised and happy that it arrived so quickly!!
WebwinkelKeur
Pekka Pulkamo
I have not used Retinacomplex for a while, but I have noticed now that they really are useful for my eyes and ability to see!
WebwinkelKeur
Muhammad Ali
It's a good experience. I order online from Canada and always receive it within 2-3 wks.
WebwinkelKeur
DKJJ
Have been ordering from retinacomplex.com for a few years and have had great experiences every time! Excellent communication and a great product! Thank you!
WebwinkelKeur
CHEN HSIU CHING
WebwinkelKeur
Joseph Haselmayer
Very satisfied. We order from Canada and it reliably arrives within 1 week. All concerns are addressed immediately.
WebwinkelKeur
Adnan Chahbar
Products was delivered ina timely fashion
WebwinkelKeur
Barbara & Stewart Milner
I have been ordering Retina Complex for my 2 adult children for 8 or 10 years who have Ushers Syndrome. They are very happy with it even though their vision has deteriorated they do notice a difference if they do not take it.
WebwinkelKeur
Jacob Hirst
Never had any problems obtaining the product quickly in Canada.
WebwinkelKeur
Rashid Abdul
WebwinkelKeur